The Capricorn Goat /
Sea Goat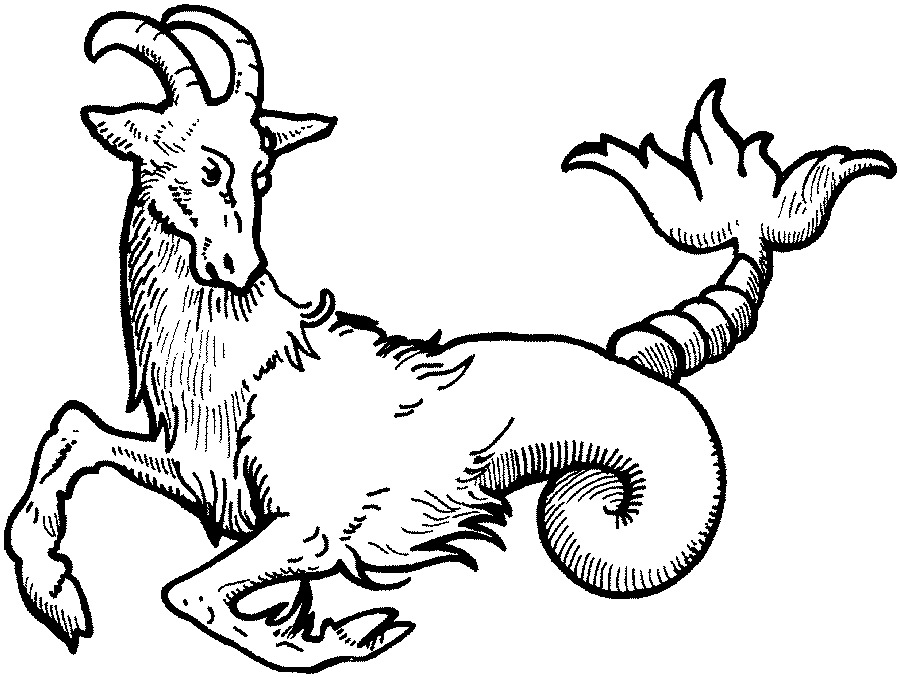 The sea goat is often referred to as the 'Capricorn goat' because of its association with the Capricorn zodiac sign.  What you choose to call it is up to you.  The creature remains the same.
The sea goat has the body of a goat from the waist up and the tail of fish.  It's a very unusual creature, even for mythical standards, because the two halves don't seem to make a whole lot of sense together.  Goats are designed to climb steep and rocky cliffs while fish are designed to move smoothly through water.  Neither half compliments the other.  In fact, they almost make it a completely impossible creature altogether.
Most mythologists have the origin of the Capricorn goat screwed up, just as they have Capricorn mythology screwed up.  Some believe the image of the sea goat comes from the story of Typhon, the king of monsters.  They attribute the image to the god Pan, a satyr, who jumped into the river to flee Typhon's assault on the gods.

Others say that there was a separate figure named Aegipan (notice the similar name), who was the sea goat of Capricorn legend.  There are no real conclusive clues as to where this mysterious god came from or where else he is referenced.  In my opinion, that's because he's a sorry excuse for a myth that nobody knew what else to do with.
The best explanation of the Capricorn goat comes from the Capricorn zodiac sign myth that was discovered in later writings.  You can read the full Capricorn zodiac sign myth here, but I'll also give you the quick breakdown.
Basically the sea goats came from the first sea goat, Pricus, who was created by the god Chronos (Greek mythology).  The legend goes that eventually all the sea goats made their way inevitably to land where they became the four-legged goats that we know today, leaving Pricus as the sole sea goat and the figure in Capricorn mythology.
This, naturally, explains why there are no sea goats today.  Because you were probably wondering where they went.
Return from Capricorn Goat to the List of Mythical Creatures.